AHMIC PROPOSED INTERNET TOWER PROJECT
CENGN ANNOUNCES NORTHERN ONTARIO BROADBAND PROJECT AHMIC HARBOUR 
MULTI-TOWER WIRELESS ACCESS APPROACH WILL BRING HIGH-PERFORMANCE INTERNET TO AHMIC HARBOUR AND AHMIC LAKE AREA
CENGN is announcing the launch of an innovative project that will bring high-performance broadband access to the village of Ahmic Harbour and the Ahmic Lake Area within the Municipality of Magnetawan. This project is part of CENGN's Northern Ontario Residential Broadband program and will serve as a model for high-performance service expansion across large lakes for other communities across the province.
Residents who wish to submit their names to the waiting list for services can submit their information at https://netspectrum.ca/en/contact-us/
or are welcome to chat with a member of Netspectrum's team by calling 1-800-461-6379
UPDATE FEBRUARY 11, 2022 
Our new tower in Ahmic Harbour, Rosskopf and Cedar Croft area is now live - up to 50 Mbps available (depending on location). We have two more towers on the way to be live soon in the area. If you're not covered by this one, hang tight!
Reach out to our team here: https://netspectrum.ca/en/contact-us/
WANT TO VIEW THE WIRELESS RACK CARD    CLICK HERE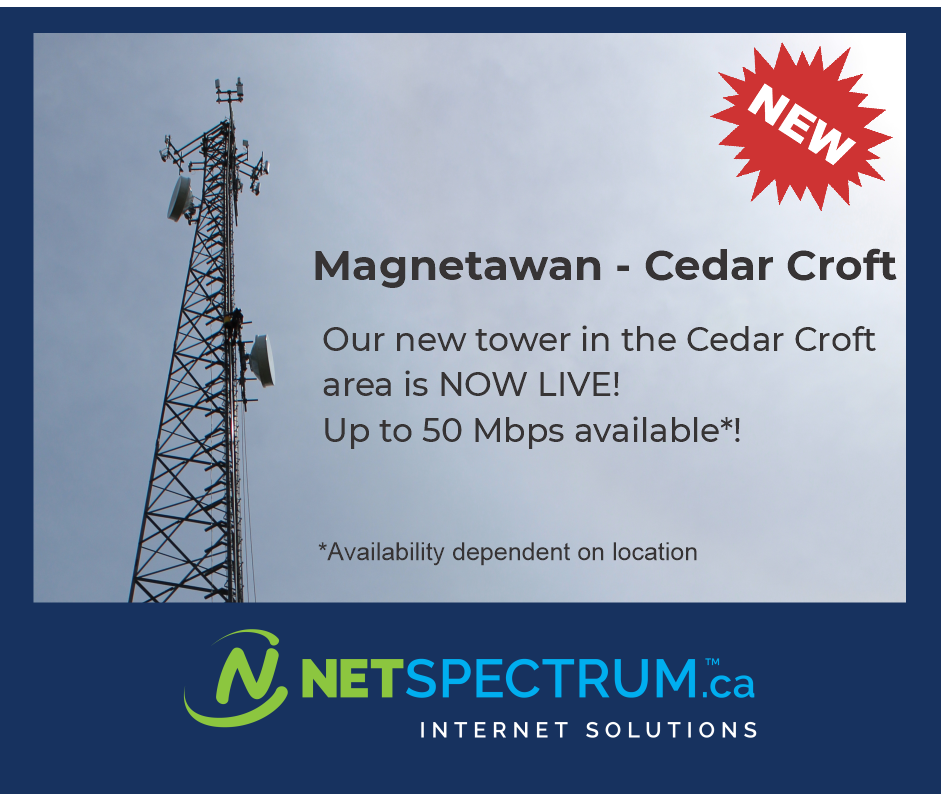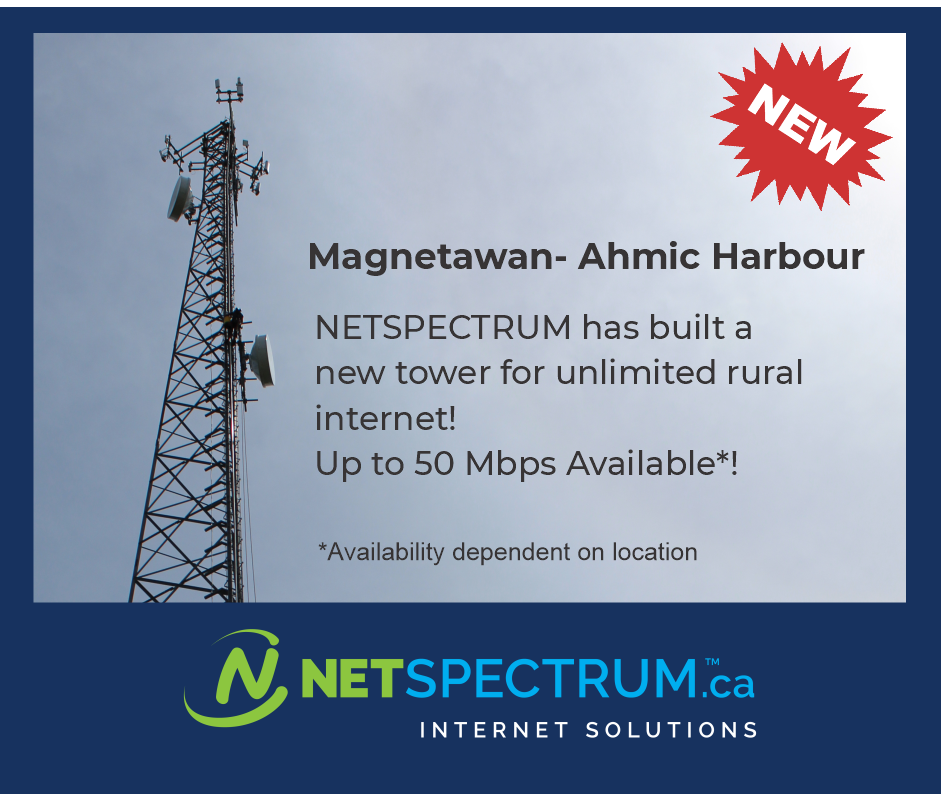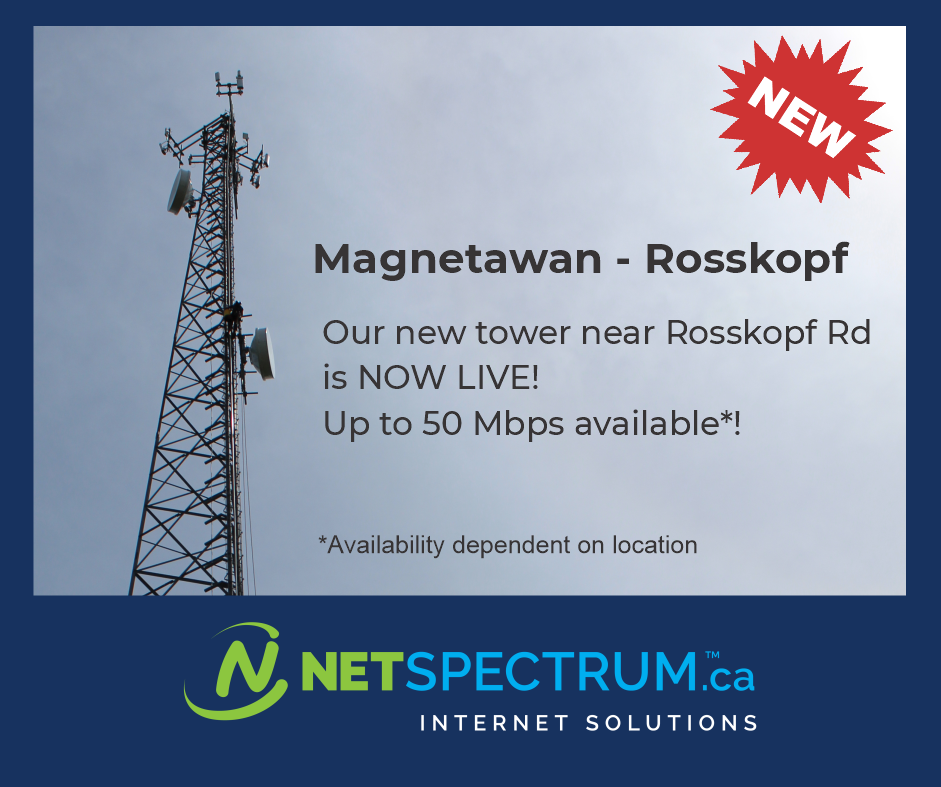 As part of the Ahmic Harbour / Ahmic Lake project CENGN has contracted with CIRA to have a custom Internet Performance Tool (IPT) lander page created for the Municipality of Magnetawan.

The objective of this tool is to allow CENGN to track the before and after impact of the newly proposed services and be able to monitor how well the new services are performing.
To utilize the Internet Performance Tool please CLICK HERE
For Instructions on how to use the Performance Tool please CLICK HERE 
For the full news release please visit https://www.cengn.ca/cengn-announces-northern-ontario-broadband-project-in-ahmic-harbour/
PROPOSED TOWER LOCATIONS 
PUBLIC NOTIFICATION LETTER LOCATION ROSSKOPF ROAD 
PUBLIC NOTIFICATION LETTER LOCATION AHMIC HARBOUR 
PUBLIC NOTIFICATION LETTER LOCATION CEDAR CROFT 
Contact Information: This notice initiates an invitation to the public to provide written
comments (in support or not) to Spectrum Telecom Group about this proposal by March 10th, 2021. Please email, e-mail, or fax your comments to the following address:
Spectrum Group
132 Imperial Road,
North Bay, Ontario, P1A 4M5
Attn: Mr. Wayne Lynch
E-mail: consultation@spectrumtelecom.ca
Fax: (705) 474-6192
Phone: (705) 474-6368, Toll Free: 1-800-267-8560

The Land Use Authority (LUA) for the area is the Corporation of the Municipality of
Magnetawan. Contact information for the LUA is as follows.
Municipality of Magnetawan
Attention: Acting Deputy Clerk
4304 Hwy #520 P.O. Box 70
Magnetawan, ON P0A 1P0
Phone: (705) 387-3947
Email: deputyclerk@magnetawan.com
Web: www.magnetawan.com
A public meeting is scheduled by the Municipality for March 17, 2021 at 1:00 PM. Please reach out to the Municipal Office or by email at deputyclerk@magnetawan.com for details on how to participate in the Public Meeting.