THE 2022 MUNICIPAL and SCHOOL BOARD ELECTION WILL BE HELD ON MONDAY, OCTOBER 24, 2022
Electors in the Municipality of Magnetawan will have the convenience of choosing to vote by mail, telephone or internet.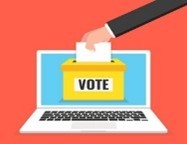 ---
WANT TO SEE WHO IS RUNNING?    CLICK HERE!
---
IMPORTANT DATES 
Nomination start date: May 2, 2022
Nomination end date: August 19, 2022 at 2:00 p.m.
Election Day: October 24, 2022 from 10:00 a.m. to 8:00 p.m. 
New term of Council begins: November 16, 2022
To view all the KEY DATES      CLICK HERE 
---
NOMINATION PERIOD (CANDIDATE REGISTRATION)
The Nomination period for Municipal Elections is
May 2, 2022 at 9:00 a.m. to 4:00 pm weekdays
until August 19, 2022 at 2:00 p.m.
NOMINATION PACKAGES
Are you thinking of running for the 2022 Municipal Election?
Nomination Packages are available for pick up at the Municipal Office
and contain all the information you will need to get started! 
Still have questions?  Give us a call
NOMINATION PROCESS
To run for the office of Mayor or Councillor  for the 2022 Municipal Election you must file a nomination paper in person and pay the required filing fee.
Candidates who are qualified to file a nomination must complete the prescribed Nomination Paper - Form 1 together with the required filing fee.
The required filing fee is $200 for the Office of the Mayor or $100 for all other offices.
Payment is accepted in the form of cash, certified cheque, or money order made payable to the Municipality of Magnetawan.
Until you file a nomination paper, you cannot raise or spend any money on your campaign.
Nominations must be filed in person at the Clerk's Office at the Municipality of Magnetawan Municipal Office at 4304 Highway 520 Magnetawan by the Candidate.
QUALIFICATION OF A MEMBER OF COUNCIL
18 Years of Age or Older; and
A Canadian Citizen; and
A resident of the Municipality of Magnetawan or an owner or tenant of land in the Municipality of Magnetawan or the spouse of such a person; and
Eligible to Vote.
PERSON WHO ARE OR MAY BE DISQUALIFIED FROM SEEKING ELECTION TO COUNCIL OR A LOCAL BOARD
The following persons are disqualified from being elected to Municipal Office:
Any person not eligible to vote in the Municipality;
An employee of a Municipality unless he or she takes an unpaid leave of absence before being nominated, and resigns, if elected for office;
A judge of any court;
A member of the Legislative Assembly of Ontario, a Senator, or a Member of the House of Commons;
A inmate of a penal or correctional institution under sentence of imprisonment; and 
A person who by reason of any violations of the election campaign financial requirements or violations for not filling the financial statements pursuant to the Municipality Elections Act, 1996.
---
FOR MORE INFORMATION OR TO READ THE 2022 CANDIDATES GUIDE 
---
CHECK TO SEE IF YOU ARE ON THE LIST TO VOTE!
Take a few minutes to ensure you are on the list, and that all your information is accurate at https://www.voterlookup.ca/home.aspx and encourage your friends and family to do the same!   PLEASE REMEMBER that just because you are on the PROVINCIAL VOTERS LIST does not mean you are on the MUNICIPAL VOTERS LIST.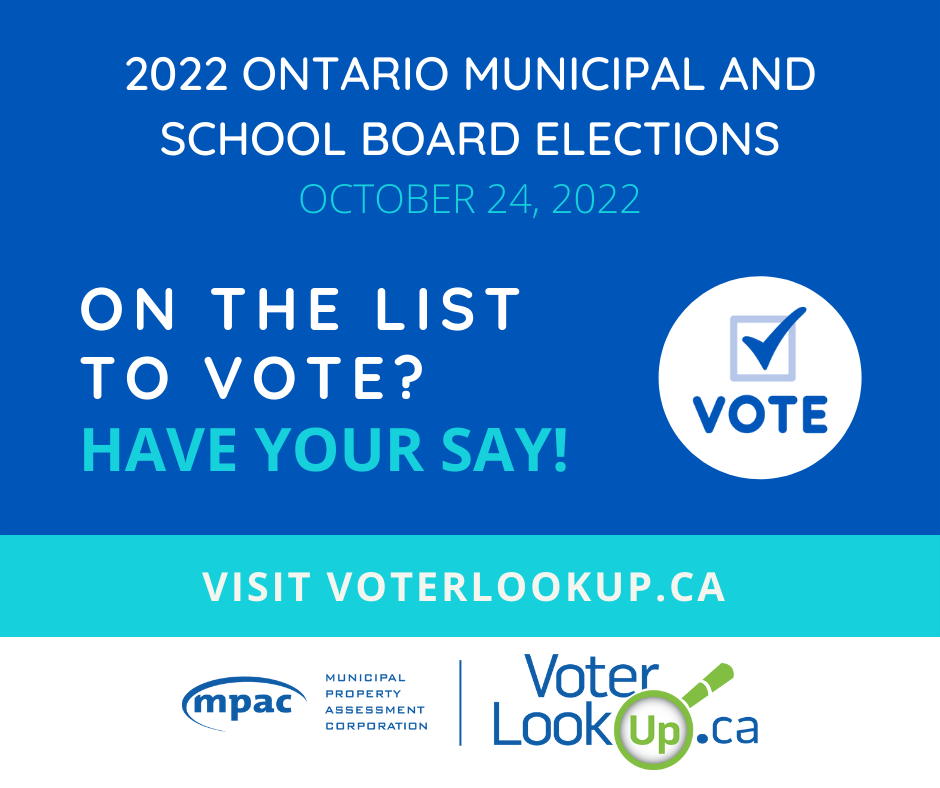 ---
PUBLIC NOTICE ACCESSIBILITY REQUIREMENTS FOR THE 2022 MUNICIPAL ELECTION