MUNICIPAL ELECTION 2022
Electors in the Municipality of Magnetawan will have the convenience of choosing to vote by mail, telephone or internet, in the 2022 Municipal Election.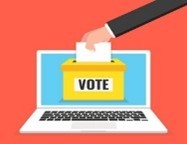 Election Day: FINAL DAY to VOTE  Monday, October 24, 2022  from 10:00 am to 8:00 pm.
CHECK OUR WEBSITE REGULARLY FOR UPDATES AND STAY TUNED FOR MORE INFORMATION
Take a few minutes to ensure you are on the list, and that all your information is accurate at https://www.voterlookup.ca/home.aspx and encourage your friends and family to do the same!   PLEASE REMEMBER that just because you are on the PROVINCIAL VOTERS LIST does not mean you are on the MUNICIPAL VOTERS LIST.