Magnetawan Lions Club
The Magnetawan Lion's Club is dedicated to supporting the Municipality of Magnetawan in many ways.
Magnetawan Lions Club - our moto is we serve. Service to the community is our primary focus. We do this by offering programs such as: 52 years of free swim classes for children, scholarships for local students pursuing post secondary education, funding various Magnetawan Public School and Almaguin Highlands Secondary School activities. We also provide financial assistance to residents who are required to travel regularly for medical purposes and the purchase of various medical aids like beds and wheelchairs. We also provide food baskets to help families displaced by fire. Thanks to support of our generous community we are able to offer the yearly Christmas basket program to over 30 families/individuals. 
One of the most notable services they provide to the community is the Swimming Lessons free of charge for three weeks in the summer at Centennial Park.
The Magnetawan Lions Swimming Lessons for 2023 are planned for July 17th to August 4th.  For online registration forms click the link: https://form.jotform.com/220814646856261   In person registration will be Saturday July 15, 2023 from 10am to 12pm at the Magnetawan Centennial Park.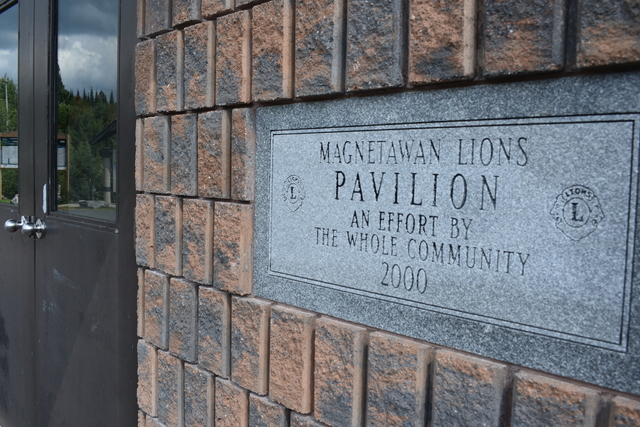 Magnetawan Horticultural Society
We are always welcoming new members to our Society. If you enjoy gardening, please join us!
For further information please contact maghortsociety@gmail.com or (705) 387-0219
Magnetawan Agricultural Society 
The Magnetawan Agricultural Society began in 1877 as a social event for the pioneer families in our area. They displayed their talents and industry that they had brought with them from overseas and how they adapted and progressed living in the harsh climate of northern Ontario.
This tradition continues today and provides means of encouraging interest, promoting improvements in and advances the standards of agriculture, domestic industry, and rural life. It's not just for local people but to educate the general public. There are children from the city that really believe milk comes in clear plastic bags and that chickens lay more than one egg each day. Our Annual Fall Fair provides a lot of fun for the family, through exhibits, displays, demonstrations and musical entertainment.
For further information please contact magnetawanfair@gmail.com
Magnetawan Ridge Runners Snowmobile Club 
PSSD/OFSC District 10 is located in the district of Parry Sound/Muskoka. The heart of Georgian Bay Country, our trails can be accessed within a three-hour drive from the GTA. The objective was to get a trail from Magnetawan to Sundridge, Magnetawan to Burks Falls and Magnetawan to Sprucedale - connecting all three. Total of 153 km of trails. MRR's meetings are the third Thursday of the month October thru April. The meetings are held at the Grill and Grocery in Magnetawan. Meetings are at 630 pm but come earlier and have dinner with fellow snowmobilers.
For further information please contact (705) 387-1138
Magnetawan Friendship Centre 
The Club with approximately 50 members is affiliated with, The United Senior  Citizens of Ontario. Monthly meetings are held to provide a social time often with lunches, guest speakers, barbecues, games and other forms of entertainment. Each year the Club has two or three bus trips to local attractions .
To raise funds the Club hosts weekly card parties and rents out our club room and kitchen. (Present  rate $60.00 per day).
The Club also sponsors the Wheels to Meals luncheons on fourth Tuesday of each month September to June.
For further information please contact (705) 387-4855
Burk's Falls and District Food Bank 
District of Parry Sound Social Services 
You may often hear the term "DSSAB" within our community. DSSAB stands for District Social Services Administration Board. A special agency created by the Province and given the responsibilities to deliver Social Services within the community. These were created, in the north, where there is no existing municipal government with the legal jurisdiction to act as a Service Manager.
For further information please contact (705) 746-7777