Magnetawan is located in the Almaguin Highlands region of the Parry Sound District. The Municipality encompasses the communities of the Village of Magnetawan and Ahmic Harbour. Magnetawan is approximately 3.5 hours north of Downtown Toronto, 45 minutes north-east of Parry Sound, 45 minutes north-west of Huntsville, and 1-hour south of North Bay.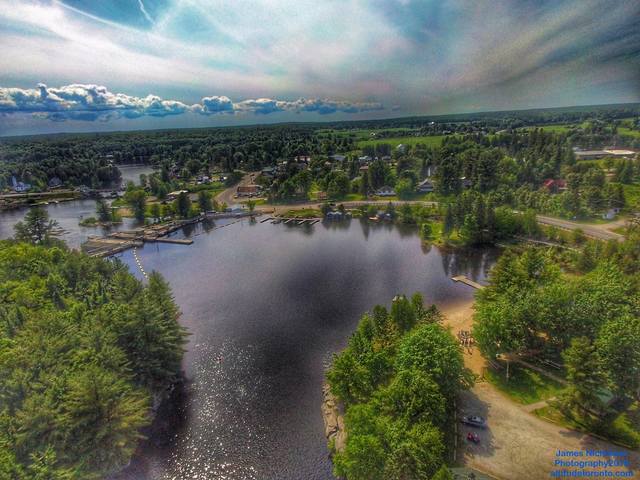 Demographics
Population (2021 Census) 1753
Percentage increase in population from 2016 census: 26.1%
Private dwellings occupied by permanent residents (2021 Census): 825 
Private dwellings occupied by seasonal residents (2021 Census): 892
Total dwellings (2021 Census): 1,717
Distance from the Greater Toronto Area (Vaughn): 2.5 hours
Area (square kilometers): 532
Highways: 124, 520 and 510
Development Charges: none
Traffic Counts (at Hwys 124 & 520): 1,600/day summer
1,200/day average
 
Breakdown By Industry
Quoted from the Economic Development Strategy for Magnetawan, 2013- "Statistics Canada's 2011 National Household Survey reported there are 655 employed persons in Magnetawan dispersed among the industries shown in the following table and graph. This breakdown uses the 20 basic industrial categories of the 2-digit NAICS code (North American Industrial Classification System)".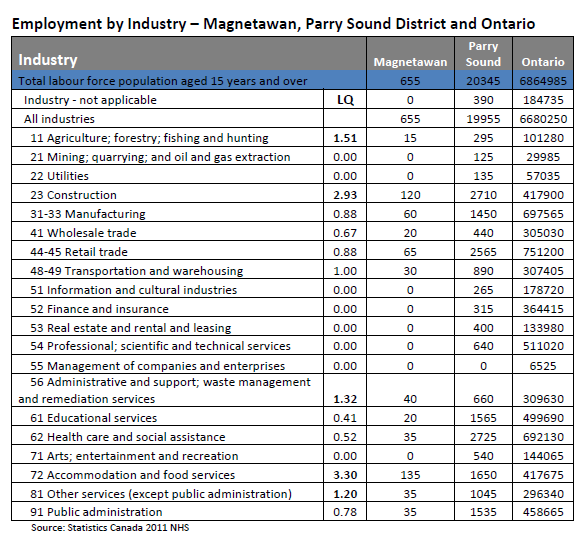 Employee jobs (working for a business owner) available in Magnetawan in 2015: 195
Total Jobs in Magnetawan (Employee and Self-Employed): 300
Average Earnings for Employees in Magnetawan: $31, 200
Highest Earnings by industry for Employee Data:
Real estate, rental and leasing- $88,361
Construction- $73,815
Commuting Patterns
Quoted from the Economic Development Strategy for Magnetawan, 2013- "Out of those 655 employed persons in Magnetawan, Statistics Canada reports that 255 Magnetawan residents are employed at a "fixed place of work". This does not include persons who have "no fixed place of work" such as construction workers, contractors, truck drivers and equipment operators or others working from the road. Two thirds of these workers living in the Municipality of Magnetawan commute. Only about 90 people report both living and working in in the community".
Labour Market
Magnetawan's Employee numbers (those working under the business owner within Magnetawan) saw an increase in jobs from 184 in 2010 to 195 in 2015, which is an increase of 11 jobs, or 6%. Compared to Almaguin Highlands, which had a 7.3% increase from 2010-2015. All of Ontario only saw a 5.8% increase from 2010-2015.
Magnetawan's total job increase (including self-employed) was an increase of 23 jobs, or 8.3% from 2010 to 2015.
Regional Trends

| Region | 2010 Jobs | 2015 Jobs | Change | % Change |
| --- | --- | --- | --- | --- |
| Region- Magnetawan | 277 | 300 | 23 | 8.3% |
| Perry, Magnetawan, McMurrich/Monteith | 986 | 1,287 | 301 | 30.5% |
| Almaguin Highlands | 5,208 | 5,860 | 652 | 12.5% |
| Ontario | 6,749,509 | 7,230,170 | 480,661 | 7.1% |
Labour Flows (based upon 2011 NHS data)
Labour Flows: This table illustrate the number of people employed in the area in a certain career, compared to how many jobs of that certain career are actually available within the area.
NAICS Code
Description

Employed in Region

Resident in Region

Net Import

72
Accommodation and food services

55

120

-65

44-45
Retail trade

30

55

-25

91
Public administration

30

35

-5

23
Construction

15

70

-55

61
Educational services

15

20

-5

11
Agriculture, forestry, fishing and hunting

10

15

-5

81
Other services (except public administration)

0

35

-35

 
Community Schools
Magnetawan Central School
Magnetawan Central School is a public elementary school serving the Municipality of Magnetawan. The school has an excellent staff that will teach your children from Kindergarten to grade 8, including offering French classes.
The School is located at 31 Sparks Street, Magnetawan.
Phone: 705-387-3939
Fax: 705-387-0102
 
Almaguin Highlands Secondary School
Area: Almaguin Highlands Secondary School draws students from numerous communities over 54,000 square km of the Near North area. Students come to Almaguin from Novar, Emsdale, Kearney, Katrine, Bear Lake, Sprucedale, Burks Falls, Magnetawan, Pevensey and Sundridge to the south. From the north, students come to Almaguin from South River, Trout Creek, Restoule, Golden Valley, Loring, Port Loring, Whitestone, Nipissing, Chisolm and Powassan.
Elementary Schools: Elementary Schools who transition students to Almaguin include Evergreen Education Centre, Land of Lakes Public School, M.A. Wittick Public School, Magnetawan Public School, Sundridge Centennial Public School, South River Public School, Mapleridge Public School, Whitestone Lake Public School, South Shore Education Centre, and Argyle Pubic School.
Location: Almaguin Highlands Secondary School is located at 21 Mountainview Rd., South River. The High School is located approximately 35 kilometers from the town of Magnetawan, or a 25-minute drive. Busing times range from 30 minutes to an hour, depending on your location within Magnetawan.
Phone: 705-472-5563
Fax: 705-386-0004
Grades: 9-12
Other Sources of Information
Statistics Canada
The Labour Market Group