Recreation, events and community engagement are vital to the livelihood and success of our community.
Due to COVID-19 restrictions, some recreation activities are postponed until further notice. Please view our Events Calendar to see our weekly programming dates, times & class descriptions!
If you would like to lead/teach a new class or program please contact the Community & Recreation Supervisor at (705) 387-3947 or by email at recreation@magnetawan.com
The Municipality of Magnetawan, following the guidance provided by the Government of Ontario and the North Bay Parry Sound District Health Unit, starting September 22, 2021 will require any individuals renting and attending the community centre for private functions, individuals attending for indoor recreational programming and individuals attending Council Meetings to show their Vaccine Certificate.
All individuals 12 years of age and older are required to show a vaccine certificate and/or proof of vaccination.
You will need to be fully vaccinated (two doses plus 14 days) and provide their proof of vaccination along with Government Issued ID to access certain public settings and facilities.
Individuals that do not show proof of vaccination will not be permitted to enter the facility or participate in indoor programming and Council Meetings.
Children under 12 years of age are not required to be vaccinated, however the parent or caregiver accompanying the child will be required to show their vaccine certificate.
Facility renters are responsible to ensure Proof of Vaccination is received from all individuals who attend their event or programming. The Municipality of Magnetawan staff will ensure that protocols are followed for Proof of Vaccination for municipally run programming.
The Municipality of Magnetawan is committed to ensuring the health and safety of all participants, visitors, and staff of our facilities.
The public are expected to follow the provincial protocols under the Ontario Reopening Plan
RECREATION PROGRAMMING
We offer a full range of recreational programming and activities for all ages to encourage healthy and active living in the Municipality of Magnetawan. Browse through the list to find a program that is suitable for you:
Pickleball
Pickleball is a racquet sport that has become increasingly popular and combines elements of tennis, badminton and ping pong and is easily adaptable for different skill levels. Come our and learn the rules of the game and basic skill fundamentals! Or if you are an experienced player, come perfect your skills! Pickleball is typically offered during the summer and winter season. Drop in Pickleball is currently being run Tuesday's at the Magnetawan Community Centre from 10:00 AM to 11:30 AM with COVID-19 Protocols in place.  For more information    CLICK HERE
Exercise Classes
Healthy Aging Currently on hold 
This class offers a full body workout with a range of exercises focusing on strength, endurance, and cardiovascular health. Registration is required, please contact the Municipal Office for more details. Classes are held at the Municipality of Magnetawan Community Centre on Tuesdays from 10:00 am to 11:00 am and Thursdays from 10:00 am to 11:00 am.
Flex & Balance (for ages 65+) Currently on hold 
Flex and Balance is catered to those who want to work on flexibility and fall prevention. This class aims to increase participants functional strength and teaches healthy physical habits. Registration is required, please contact the Municipal Office for more details. Classes are held at the Municipality of Magnetawan Community Centre on Tuesdays from 11:30am to 12:30pm.
Nordic Pole Walking
Looking for a total full body workout that offers cardio and muscle strengthening all in one? Look no further! Nordic Pole Walking is a high intensity, low impact workout that targets your upper and lower body muscles. This program gives you the opportunity to explore local trails and learn basic hiking skills. Participants can borrow walking poles from the Municipality of Magnetawan. This program is suitable for all ages and various fitness levels.
Snowshoeing
A fun winter activity for everyone! Participants are taught how to properly use snowshoes as they walk the Magnetawan trails. Participants can borrow shoes from the Municipality of Magnetawan and have the option to also use Nordic poles to help with balance.
Floor Curling
Similar to curling and shuffleboard, floor curling is set up on a flat surface and can be adjusted to accommodate different playing styles. Floor curling can be played in either a seated position or standing. The Municipality provides push poles for participants to use and this program is available during the fall and winter seasons.
Archery
Learn the ins and outs of archery! A program where participants are taught the fundamentals of shooting a bow. All participants receive a safety and orientation lesson before they take part in archery. The Municipality provides all the necessary archery equipment for participants. This program is available during the summer months.
Drop in Sports
Drop in sports provide a great opportunity for individuals to learn a new sport, meet new friends and participate in a physical activity. Sports that are being offered include: basketball, frisbee, pickleball, floor hockey, ice skating, lawn games and more! Drop in sports are being offered at the Municipality of Magnetawan Lion's Pavilion and the equipment is provided for participants.
Swimming Lessons
The Magnetawan Lion's Club offers free swimming lessons for three weeks during the summer at the Lion's Centennial Park.
For more information please visit their website or contact Cliff Cookman at Email Cliff
Magnetawan Lions' Pavilion Skating Hours
We are planning to open our Outdoor Rink this winter for the 2020/2021 Season. Due to the pandemic change rooms and private rentals will not be available until further notice. Users will be expected to follow COVID-19 protocols and the recommendations of our local Health Unit. As always please remember rink operations are WEATHER DEPENDANT. 
Current COVID-19 Protocols: Maximum occupancy 25, use at own risk, dressing rooms are closed, do not use the facilities if you are ill, bring your own hand sanitizer, pick up hockey is strictly NO CONTACT, please physically distance and please wear a mask.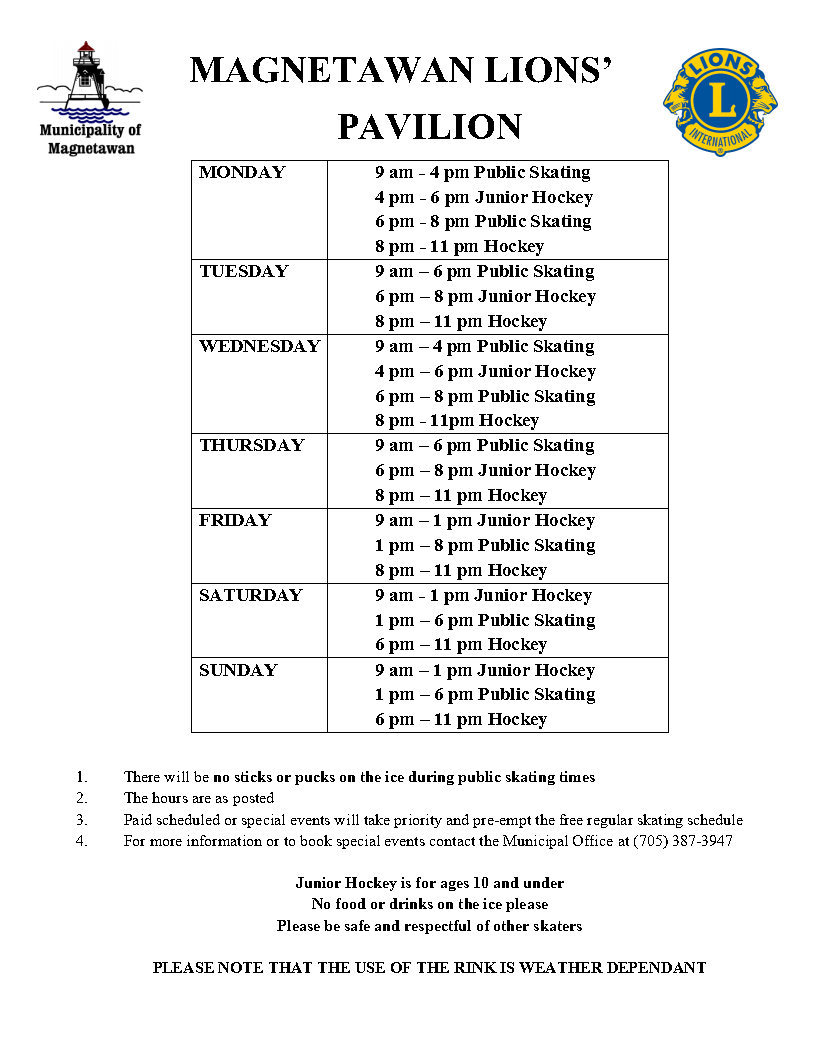 Do you have a program you would like to see being offered? Please contact the Municipal Office by email at recreation@magnetawan.com or call  (705) 387-3947