Short Term Accommodations
IMPORTANT NOTICE THE SHORT-TERM ACCOMMODATION BY-LAW WAS PASSED BY COUNCIL AT THE OCTOBER 25, 2023 MEETING OF COUNCIL
To view the By-law     CLICK HERE
For the Short-Term Accommodation Application    CLICK HERE 
---
IMPORTANT NOTICE - DRAFT #2 SHORT TERM ACCOMMODATION BY-LAW IS EXPECTED TO BE READY FOR COUNCIL'S CONSIDERATION ON WEDNESDAY OCTOBER 25, 2023 AT 1:00PM 
To view the new DRAFT By-law October 10, 2023     CLICK HERE 
To view the DRAFT By-law included in the October 25th Agenda Package     CLICK HERE 
To view the DRAFT Application  CLICK HERE
---
SPECIAL MEETING OF COUNCIL SEPTEMBER 19, 2023 
---
IMPORTANT NOTICE SEPTEMBER 11, 2023 
 Staff will be recommending to Council to defer the passing of the draft Short-term Accommodation By-law slated for the September 13, 2023 meeting due to the threat of legal action received.  Having our legal team review the documentation received from other legal counsel  is our typical process when threatened with a lawsuit. We will advise all interested parties of the future meeting date the Short-term Accommodation bylaw will be back on our agenda for consideration.  Dates may change for the application process; however,  It is anticipated that the STA  bylaw will be in effect for 2024.   
---
Council continues to work towards implementing licensing requirements for the operation of Short-term Accommodation within the Municipality.  Following extensive public engagement over the past two years, Council will be reviewing the attached draft by-law presented for passing during the regular meeting on September 13th, 2023.   With a previous Town Hall providing the opportunity to members of the public to make oral submissions, during the September 13th meeting, only written submissions of comment will be accepted.   Council and Staff wish to extend their appreciation for all comments received and we look forward to continuing to move forward on the matter. 
To View the DRAFT By-law     CLICK HERE 
The following Draft includes revisions that have been made to provide clarification and/or correction.   All revisions have been highlighted.
To View the NEW DRAFT By-law            CLICK HERE 
---
SPECIAL MEETING OF COUNCIL  APRIL 24, 2023 
---
STAFF REPORT TO COUNCIL SHORT TERM ACCOMMODATION COMPARASION 
MARCH 29, 2023 
---
THANK YOU TO EVERYONE WHO HAS EMAILED PUBLIC COMMENTS, FILLED OUT SURVEYS, ATTENDED OUR TWO OFFICIAL PLAN AND ZONING BY-LAW REVIEW OPEN HOUSES AND ATTENDED THE TOWN HALL WITH COUNCIL ON WEDNESDAY, JULY 27, 2022 AT 7:00 PM.  WE APPRECIATE YOUR INPUT!
TO VIEW THE PRESENTATION FROM THE TOWN HALL WITH COUNCIL 
TOWN HALL SUMMARY MEMO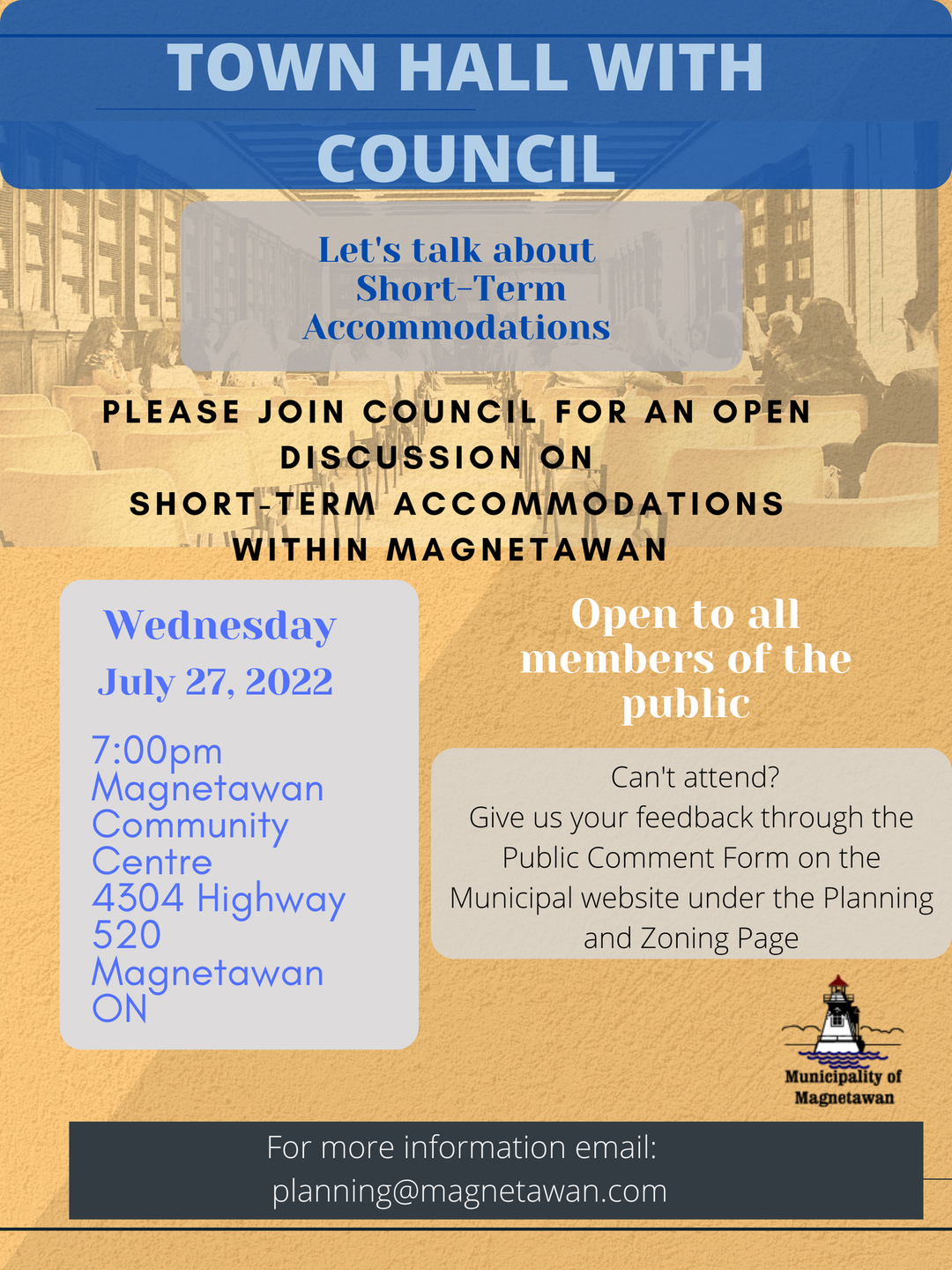 SURVEYS 
This survey was first circulated in August 2021 as part of our Official Plan and Zoning By-Law Review 
To respond to the survey below please click the title button which will take you straight to Survey Monkey. Underneath the survey you will see a link to the responses already collected for this survey.
Click HERE for the responses up to November 10, 2022
Click HERE for the responses up to August 26, 2022
Click HERE for the responses up to August 09, 2022
Get In Touch